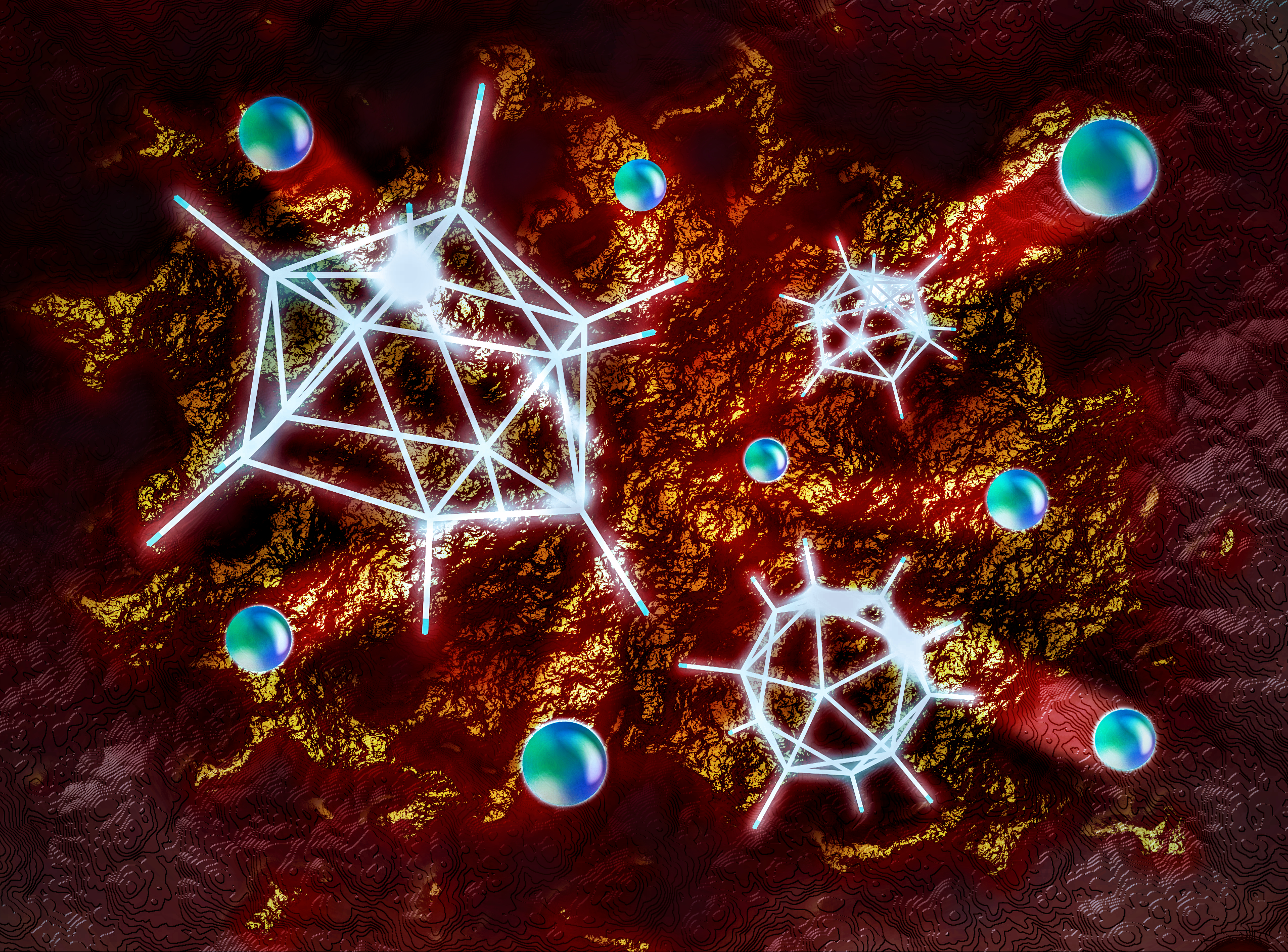 Article in Sustainable Energy Fuels

December 14, 2022

Assistant Professor Anton Gradišek, PhD from the Department of Condensed Matter Physics F5 and colleagues from Australia have published in Sustainable Energy Fuels the article
Hydrated lithium nido-boranes for solid–liquid hybrid batteries.
Hydridoborate salts are considered as promising solid-state electrolyte candidates for the development of solid-state batteries (SSBs). The presence of coordinated water in the crystal structure may facilitate the migration of the cation, yielding compounds with high ionic conductivity. In the present study, two samples of hydrated LiB11H14, here called LiB11H14·2H2O and a-LiB11H14·(H2O)n (n < 2), demonstrate remarkably different properties as solid-state electrolytes. Using a series of analytical methods, we studied these two materials as possible candidates for solid-liquid hybrid batteries.
Article in Frontiers in Cardiovascular Medicine


December 14, 2022

Assistant Professor Anton Gradišek, PhD from the Department of Condensed Matter Physics F5 and colleagues from the Department of Intelligent Systems E9 and University medical centre Ljubljana have published in Frontiers in Cardiovascular Medicine the article
Identification of decompensation episodes in chronic heart failure patients based solely on heart sounds.
Chronic heart failure is a pressing health concern, affecting 2% of population worldwide and up to 10% of people above the age of 65. Decompensation episodes, when the patient feels particularly bad, result in hospitalizations, which are a burden both for patients and the health system. However, if an upcoming decompensation episode is detected early enough, hospitalization can be avoided by adjustment of treatment. In this study, we developed a machine-learning algorithm that distinguishes between decompensation and recompensation (when the patient feels well) episode based on heart sounds, recorded using a digital stethoscope. Our algorithm substantially outperforms the classification by cardiology experts and has potential for incorporation into a tele-monitoring system to help the patients.
Article in Applied Physics Letters

December 10, 2022

Professor Vid Bobnar, PhD from the Department of Condensed Matter Physics F5, researchers from the Advanced Materials Department K9, and researchers from France, Switzerland, the Netherlands and the Czech Republic have published in Applied Physics Letters the article
Large imprint in epitaxial 0.67Pb(Mg1/3Nb2/3)O3-0.33PbTiO3 thin films for piezoelectric energy harvesting applications.
Pure and high crystalline quality 500 nm thick PMN–33PT films were grown by pulsed laser deposition on various SrRuO3 buffered substrates. Under compressive epitaxial strain, i.e. under small lattice mismatch between the substrate and PMN–33PT, high teragonality and ferroelectric P-E loops are stabilized. On the other hand, the strain is relaxed in PMN–33PT grown on a substrate with a larger lattice mismatch, and the film displays a relaxor-like hysteresis loop and enhanced piezoelectric response. Both the strained and relaxed SRO/PMN–33PT/Au capacitors exhibit a very large negative self-bias, which is induced by the alignment of defect dipoles with the polarization and is tuned by the epitaxial strain. This imprint permits the stabilization of a robust positive polarization state and low dielectric permittivity. The functional response of our films is in fact comparable to PZT-based thin films with the highest figure of merit, and demonstrates the possibility of developing piezoelectric devices based on high quality PMN–PT thin films.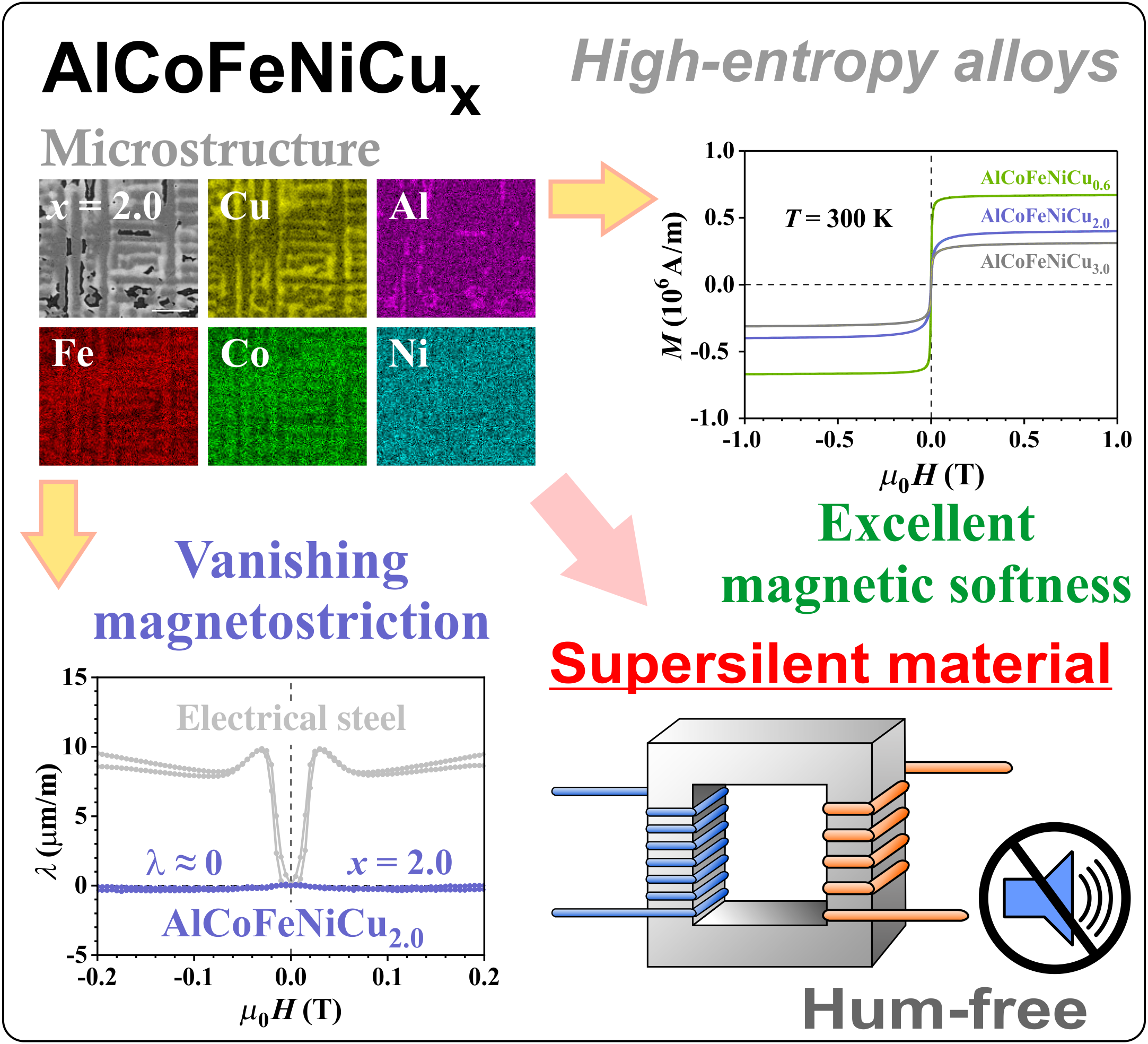 Article in Advanced Materials Interfaces

November 24, 2022
Members of the Condensed Matter Physics Department dr. Jože Luzar, assist. prof. Stanislav Vrtnik, dr. Primož Koželj, dr. Andreja Jelen, dr. Magdalena Wencka, Darja Gačnik, Peter Mihor, prof. Janez Dolinšek and the member of the Center of Excellence in Nanoscience and Nanotechnology dr. Bojan Ambrožič, together with the colleagues from the Faculty of Chemistry and Chemical Technology of the Ljubljana University, National Institute of Chemistry and the Slovak University of Technology in Trnava, Slovakia, have discovered the first »supersilent« high-entropy alloys for alternating-current applications. The ferromagnetic high-entropy materials AlCoFeNiCux (x = 2.0–3.0) show a combination of magnetic softness and vanishing magnetostriction and do not vibrate mechanically in an alternating magnetic field. Consequently, they do not emit annoying sound waves, known e.g. as the »humming« noise of an electrical grid transformer. The materials are suitable for the fabrication of supersilent (inaudible to a human ear) transformers, magnetocaloric coolers and other humming electromagnetic machinery based on periodic magnetization and demagnetization of the components. The authors have published the results in a paper
Zero-magnetostriction magnetically soft high-entropy alloys in the AlCoFeNiCux (x = 2.0–3.0) system for supersilent applications
, which has appeared recently in the journal
Advanced Materials Interface.